SKI CONTROL SYSTEM (SCS)
Summary: Following the direction of my education ( a MS in Aeronautics and Astronautics from Stanford) about 25 years ago, through my company I began developing technology to add control surfaces to recreational skis to make skiing more like flying an airplane and thereby make recreational skiing easier to learn and safer to enjoy.
Design Summary: I built and field tested an evolving series of SCS prototypes from 1988 to 1993. This prototype evolution process culminated in 1993 in the Rev 19 Ski Control System design shown below.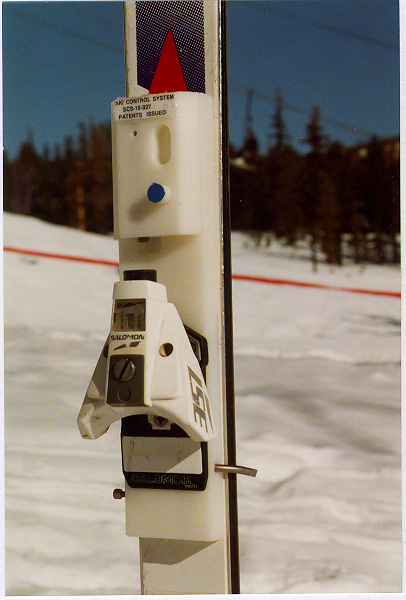 This particular SCS unit was used in conjunction with a Salomon 357 binding, but the SCS units were also mounted and successfully tested on a wide range of ski/binding combinations. This picture was taken outside Hut 2 at Mammoth Mountain in February 1993. The REV 19 SCS design was used beginning with the 1993 ski season for all student lessons and instructor evaluations.
The Ski Control System provides downhill skis with additional fluid dynamic control surfaces (SCS control probes) that operate much like ailerons on an airplane. These spring loaded control probes mounted on each side of the ski work with the edges of the skis to provide supplemental drag, lift and turning torque to give SCS equipped skis easier speed control and enhanced maneuverability compared to skis without SCS.
For additional information on the design and operation of the SCS to provide enhanced ski control click on the following link below or just continue reading this summary.
SCS Pictorial Design Description
You can then return here.
Ski instructor testing and beginning ski lesson summary: I was delighted by the support and encouragement I received from professional ski instructors and ski school directors who field tested my company's prototypes and on average felt they provided enhanced control benefits in several areas especially for beginning skiers. Beginning in the 1992/93 ski season, Heavenly ski school director Jimmy Ackerson accepted my offer to provide SCS equipped skis and have the Heavenly (South Lake Tahoe) ski school provide beginning ski lessons taught by senior Heavenly instructor Steve Evenson to volunteer groups of first time adult skiers on my company's SCS equipped skis. This successful initial beginning skier lesson program led to three more years (1994, 1995 and 1996) of beginner SCS ski lessons at Heavenly and two years (1995 and 1996) of beginner SCS ski lessons at Diamond Peak (North Lake Tahoe) ski school under ski school director Carl Hill. The chart below summaries these lessons.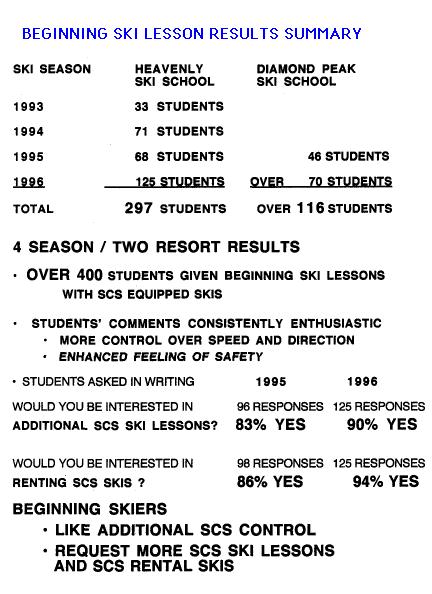 Although my company's SCS equipped skis were still only good prototypes, as noted above in the 1996 ski season lessons surveys completed by the students, 90% of these adult first time beginning skiers at Heavenly said they would have liked followon SCS ski lessons and 94% would have liked the ability to rent the SCS equipped skis and continue skiing on them the rest of the day. (The SCS skis were provided through the ski school not the rental shop so the students needed to return the skis to their instructor after the class and continue skiing on the equipment rented from the rental shop.)
I believe the evaluations from ski instructors who field tested SCS equipped skis and especially the extensive and very positive comments from the 400 adult beginning skiers who took official ski school beginner lessons on SCS equipped ski provide the most objective documentation of what I believe are the significant enhanced control and feeling of safety benefits provided by the ski control system.
I invite you to review some of these SCS Ski Lesson Student comments and Instructor Evaluations and then come back here or just continue reading this summary.
SCS opportunities for increased public participation in recreational skiing:
From my own skiing experience, I believe recreational skiing is a thoroughly enjoyable activity that provides one of the best opportunities for outdoor family recreational activity in the wintertime. When my daughters were growing up, we had many enjoyable ski trips which provided fun, relaxation, exercise and family bonding while enjoying some very picturesque and even inspirational winter settings. Unfortunately as discussed in the design description section, becoming proficient with conventional ski equipment requires a considerable investment of time and training especially for adults of average athletic ability who work in sedentary occupations. During family ski trip experiences, Mom and Dad had their share of falls and uncomfortable experiences which as risk adverse people dampened our enthusiasm for skiing and motivated me to invent a more controllable ski.
I believe the instructor and beginning student comments from their SCS skiing confirm my belief that my company's SCS prototypes achieved their design objective to dramatically enhance quasi-flat skiing control over ski speed and direction. Based on these enhanced SCS ski control characteristics, I believe broad skier access to SCS equipped skis will enhance public participation in recreational skiing four ways as presented below.
1.1: More rapid and less fearful progression to at least a lower intermediate skiing level with fewer dropouts: I believe enhanced SCS ski control will enable almost all skiers to more easily handle beginning terrain while they are developing their edging skills. I believe this enhanced SCS ski control will then enable most skiers to more quickly and with fewer bad experiences progress to at least a lower intermediate level where the more interesting terrain and dining facilities make skiing fun. I believe the reduced investment cost with SCS skis to achieve a positive return from skiing will encourage more people to learn to ski even if they only plan to ski occasionally. Some of these people will only ski occasionally for many years while others will decide to become more avid skiers.
1.2: Skiing at a more advanced level consistent with each person's level of risk aversion: Up through middle intermediate skiing I believe enhanced SCS ski control will enable each skier to achieve a higher level of skiing consistent with their athletic ability and their own level of risk aversion (i.e. how solidly "in control" they feel comfortable skiing).
1.3: Enhanced ski control for most recreational skiers on hard show: Skiers that progress to advanced terrain will find the SCS provides minimal additional control on the black diamond runs and will likely choose conventional skis. However I believe that even many moderately aggressive middle intermediate skiers will choose to ski on SCS equipped skis because of the significant control enhancement provided by the SCS control probes under hard snow conditions. Many skiers tend to flatter ski on hard snow for fear of catching an edge. I believe that testing has shown the SCS is very effective at providing enhanced control under hard snow conditions which I believe will enable most recreational skiers to ski more comfortably and safely on hard snow conditions just slightly below their normal terrain levels.
1.4: Enhanced family participation in recreational skiing: Skiing is a family vacation activity for many skiers unless they live very close to a ski resort. Whereas I believe ski equipment manufacturers are focused on the most athletic skiers, I believe the average or even less athletic skier is the key to increased family participation in skiing. If some family member - mom, dad, junior or sis finds skiing more difficult or fearful, the entire family is likely to go somewhere else on their vacation. I believe the enhanced ski control of the SCS can help less athletic and more risk adverse skiers enjoy the recreational skiing experience. By helping every family member enjoy skiing, I believe SCS equipped skis can significantly expand family participation in recreational skiing. As a senior and now less athletic and more risk adverse skier, I find SCS skis quite helpful. We senior skiers are an important part of this family participation effort because as grandparents we often have the means to take our children and grandchildren skiing as an enjoyable and bonding family outing.
Commercial challenges to broad recreational skier access to SCS equipped skis: I believed I had a program of resort rental shop SCS rentals and ski school lessons lined up for the 1996/1997 season that would have enabled my company to bootstrap growth of SCS public access. For whatever reasons that apparently did not materialize. However I have believed for years that the best path to broad public access to SCS equipped skis was to encourage a ski equipment manufacturer to include the SCS in their product line. I have pursued this path so far without success since the late 1980s believing that broad public access to SCS skis would have broad economic benefits complementing the societal benefits of enhanced public participation in recreational skiing discussed above.
SCS economic benefits: Specifically I believe these economic benefits include:
Ski community benefit: I believe skiing communities will be strong beneficiaries of broad public access to SCS equipped skis. Increased skier participation is an obvious benefit with increased motel, restaurant and retail sales. However I believe the primary benefit will be increased family participation leading to increased condominium sales (both at the resort and in town) with the owners being frequent off season residents and potential retirees helping to build the community both through their purchase, upkeep and property taxes on their condominium and by their physical presence and participation in the community.
Ski resort benefit: I believe ski resorts will strongly benefit from the increased public participation in recreational skiing encouraged by SCS equipped skis. These benefits include increased lift ticket, rental, ski lesson and retail sales. However again I believe the primary economic benefit will likely be the increased opportunity for condominium sales driven by increased family participation in recreational skiing.
Ski equipment manufacturer benefits - Here even more so than the other two benefits I need to clearly state that the following are simply my beliefs and I may be wrong. I believe the increase in sales of SCS equipped skis both to many new skiers motivated by the enhanced control of SCS skis and to current skiers who decide to purchase SCS skis for the same reason and also additional conventional skis to many new advanced skiers who begin skiing with SCS skis will result in a significant increase in both ski equipment sales and profits. However a legitimate concern is that the lower price and lower profit margin of SCS equipped skis (which don't need to be of Olympic downhill quality) could actually reduce profits especially if the substantial growth in the number of skiers failed to materialize. I also heard the concern expressed that SCS skis would be perceived as "beginner products" and that would taint the "Olympic champion ski" image of any company that marketed them.
SCS Commercial Challenge: From my over 25 year effort to market SCS equipped skis, I believe 1) the American people would strongly benefit emotionally and physically from increased participation in recreational skiing through more controllable SCS skis 2) ski communities and the ski resorts that serve them would strongly benefit economically from the increased participation of the American people in recreational skiing and 3) that the ski equipment industry would also benefit economically from significantly increased sales of both SCS and conventional ski equipment as discussed above. However I am old enough to remember when many years ago Ford introduced seat belts as optional equipment on their cars and experienced a drop in sales reportedly because consumers felt if their cars needed seat belts they must not be as safe. The incorporation of seat belts required government regulations which required all car manufacturers to provide seat belts and thus absolved the individual car manufacturers from any blame for the seat belts.
While I am still optimistic that the free market will ultimately provide public access to SCS equipped skis for recreational skiing, after over 25 years I now believe that some form of government encouragement is needed. Years ago I contacted my Congressman for support in achieving public access to SCS skis and I recall hearing him say that people should have access to technology that makes them feel safe. I support that position and since most ski resorts at least partially use federal land, they could as a condition of their lease be required to offer SCS equipped skis both for rent and in ski lesson programs at a reasonable price and let the public determine (i.e. VOTE by their choice of ski equipment) how broadly they wish to use SCS ski technology. Since all four of my company's US SCS related patents as well as our single European patent have now expired, our participation in the eventual commercialization of SCS skiing will likely be limited. However I believe the opportunities offered by SCS skiing for the public, ski towns, ski resorts, ski instructors and ski equipment manufacturers are outstanding.
Thank you for the opportunity to present this summary on what I believe is the exciting prosperity enhancing opportunity offered by the technical innovation of SCS skiing technology.
You may now
OR
Review the SCS Pictorial Design Description if you missed it or would like to review it again,
OR
Review the SCS Ski Lesson Student comments and Instructor Evaluations if you missed them or would like to review them again.
John M. Humphrey
April 28, 2014