! home.html 163 Topics + VOTELIST LINK AND REFORMAT 1/28/97> <! and Roadmap link added 9/27/97 > <! and Licensing offer added 10/15/97 >

-AN ELECTRONIC CITIZENS CONVENTION-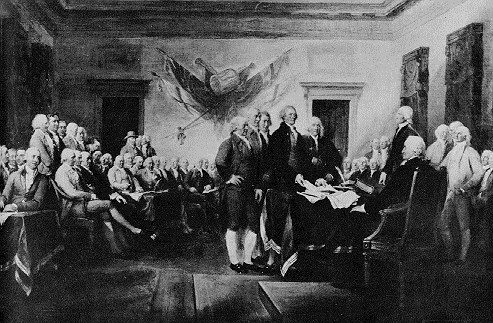 THE SIGNING OF THE DECLARATION OF INDEPENDENCE
EMPOWERING AMERICAN CITIZENS TO PROPOSE AND VOTE ON

THE RULES THEY FEEL SHOULD GOVERN AMERICAN SOCIETY
---
UVOTE CONTAINS

163 POLITICAL ISSUES AND SOLUTIONS
ANYONE CAN

REVIEW ISSUE AND SOLUTION PROPOSALS

REVIEW CITIZEN COMMENTS ON ISSUES AND SOLUTIONS

REVIEW CURRENT VOTING RESULTS
ANY AMERICAN CITIZEN CAN REGISTER AS A UVOTER AND
MAKE PUBLIC COMMENTS ON ANY ISSUE OR SOLUTION

VOTE ON ANY ISSUE OR SOLUTION

PROPOSE NEW ISSUES OR SOLUTIONS
YOUR UVOTE OPTIONS

CGI codes are developed by Internet Image, THE WEB DEVELOPER. We design eye-catch homepage and complex cgi codes which perform any function youlike to have at your site. Contact us at:iii@internetimage.com

---
UVOTE is an on-going project of
UWSA SANTA CLARA CO., CA Chapter
We welcome your input on UVOTE. Please send comments and suggestionsto: humphrey@aimnet.com
---
---
My Fellow Americans - Welcome to UwsaVOTE
The objective of UVOTE is to help return to the American people control over the rules that govern American society. This political philosophy is more fully explained in the section POLITICAL PHILOSOPHY BEHIND UVOTE. UVOTE is only one small part in this process which will require greater involvement of all American citizens in the political process. We feel that UWSA as a citizens movement uncompromised by alliances to existing power structures offers America an excellent vehicle to achieve our objective. When I was growing up in the 1950's I remember President Eisenhower's appeals to both parties to act in the national interest by practicing "politics above party". Dwight Eisenhower ran as a Republican, but he was first and foremost an American. Unfortunately President Eisenhower's appeals did little to quell the endless party bickering and in the last 40 years the situation has gotten worse - much worse. In the last 40 years the explosive growth of campaign costs primarily due to television advertising has allowed big money interests to exert undue influence over both major political parties and thereby seriously erode the process of representative democracy.
What America needs is issue oriented politics not party oriented politics. In other words America needs more democracy in our republic. UVOTE provides a continuous electronic citizens convention at which citizens can present any issue that concerns them and then propose solutions to that issue or any other issue. Their fellow citizens can briefly comment on these proposals and then VOTE on both the relative importance of issues and the effectiveness of candidate solutions. The Uvote process continually prioritizes all the issues and the solutions based on cummulative citizen votes and also creates a combined importance value based on the priority of each issue and the effectiveness of each solution. For more information on the UVOTE process please refer to UNDERSTANDING UVOTE .

An important objective of UVOTE is to provide our elected representatives with a clearer picture of their constituents views on political issues and candidate solutions. However a more important objective is to let the American people know what we want. Our representatives are politically savy and through polls and other techniques they usually know what their constituents want. Unfortunately representative democracy is becoming a process of minority rule whereby those who control each power center in society (i.e. medicine, law, education etc) exert a controlling interest in defining the rules within their sphere of influence. Human nature being what it is, these rules are designed to benefit the controlling interests not the best interests of the American people. Elected representatives are afraid of loosing both the ballot votes and the wallet votes of special interests. Our ignorance of the true weight of public opinion on these issues actually encourages our representatives to cater to the special interests. Hopefully UVOTE and other similar systems will help provide the American people with a much clearer picture of our wishes for America and a better understanding of how we are often poorly represented on many issues. If I know the American character, that understanding will in the words of Admiral Yamamoto (after his navy attacked Pearl Harbor) ,"AWAKEN A SLEEPING GIANT AND GIVE HIM A TERRIBLE RESOLVE." I am confident that resolve can restore citizen control over the rules of American society. The resulting positive social changes can remove many of the present disfunctions in American society and lead to an American renaissance.

I have presented these thoughts further in a book entitled, "ROADMAP TO AN AMERICAN RENAISSANCE" which is now available in its entirety on the Internet and I would sincerely appreciate your comments. You will return to the top of this home page.

Again I welcome you to UVOTE. Please refer to POLITICAL ISSUES AND THEIR CANDIDATE SOLUTIONS and let us have your opinions and votes on the issues facing American society.

Sincerely,

John M. Humphrey, Secretary
UWSA Santa Clara Co., CA Chapter

Return to top of UVOTE HOME page
---
WHAT'S NEW IN UwsaVOTE
TOP LEVEL VOTE SUMMARIES
Provides UVOTERs with convenient access to vote results prepared in a variety of summary reports
Uwsa VOTE LOGIC MAP
- A one page map to help you navigate our web site
MORE NEW ISSUES AND SOLUTIONS TO COMMENT AND VOTE ON
- New Topics Since 3/1/96
104 CHRONIC TRADE DEFICITS
104.1 Balanced Trade Import limits
101.2 Individual National Debt Accounts
101.3 Path to Balance Budget
201.3 Blind Trust for Contributions
201.4 Limited Free Air Time For Candidates
201.5 Only Voluntary Dues For Political Causes
203.5 Congressional Audit and Review of Federal Reserve
204.2.1 None of the Above Majority = New Election
204.7 Official Internet Voting
204.8 National Voters Holiday
207.5 Sunset via Minority Repeal
207.6 Minority Repeal
306 MISLEADING CONSUMER PRODUCT INFORMATION
306.1 Required Unit Price History
401.4 Balanced Trade Import Limits
501.4 Tax Deductible "Do It Yourself" Labor
502.6 Stringent Concealed Weapon Permits
503.5 Contemporary Statutory Rape Law
505.4 Drug Legalization
510 SOCIAL DISRUPTION OF ABORTION
510.1 Legal Restrictions on Abortion
510.2 National Abortion Standard
NEW DEFINED OPTION SOLUTION VOTING METHOD
Most solutions are voted on in terms of effectiveness from 1 (lowest) to 10 (highest). However we are now including solutions with a spectrum of defined options so your vote both indicates how you feel about the solution in general AND more specifically WHAT option you feel most closely represents your preference.
DEFINED OPTION SOLUTIONS
505.4 Drug Legalization
510.1 Legal Restrictions on Abortion
510.2 National Abortion Standard
NEW LINKS TO ADDITIONAL INTERNET BACKGROUND MATERIAL
- We are adding links from UVOTE issues to other web sites that provide additional background information on that issue. If you wish, you may visit those sites to read up on that issue and then return to UVOTE to cast your vote.
ISSUES AND SOLUTIONS WITH BACKGOUND INFORMATION LINKS ARE FOLLOWED BY (*) IN ISSUE LIST
Go to POLITICAL ISSUES & CANDIDATE SOLUTIONS
and follow the directions to Review, Comment and Vote on specific issues and solutions
OR
Return to top of UVOTE HOME page
---
OPERATION AND OBJECTIVES OF UVOTE
UVOTE is a joint internet project of United We Stand America (UWSA) Santa Clara County Chapter and John M. Humphrey (currently chapter secretary and UVOTE Webmaster) provided free of charges to promote citizen participation in the American political process through continuous citizen voting and commenting on the issues facing American society and the candidate solutions to those issues. UVOTE expresses our conviction that continuous discussion of society's problems and their potential solutions together with continuous OPEN voting by all citizens on those problems/solutions is essential to promoting the well being of our American society or of any human institution.
OPPORTUNITY
We feel the UVOTE software offers a powerful internet tool to enhance member participation for a wide range of citizens organizations. For enlightened businesses UVOTE also offers an opportunity for customers to provide open and unrestricted feedback on products and services.
UWSA Santa Clara County Chapter would be delighted to discusss licensing the UVOTE software ( in most cases for free ) to both citizens organizations and commercial organizations. While the UVOTE software at uvote.com provides completely unrestricted access to voting and commenting, we have another version that requires registration and subsequent verification before a person can vote and comment on the various topics. This version is better suited to organizations that want to restrict voting to just their members. Our primary requirement in licensing UVOTE is that anyone who is entitled to vote and comment will also be entitled to full access to the voting results and comment review.
If your organization or business would be interested in licensing the UVOTE software to provide enhanced on line participation and feedback from your members or customers, please contact John M. Humphrey at humphrey@uvote.com
Return to top of UVOTE HOME page

---
---