! UVOTE/chapter_voting_results.html 11/13/95>
4.0 UWSA SANTA CLARA CO CHAPTER
VOTING RESULTS - SPRING 1995
The members of our UWSA Santa Clara Co. chapter both developed the UVOTE process and served as an initial test case for its implimentation. We formulated 30 political issues and 96 solutions to those issues and then we voted on those issues and solutions. For the purpose of illustration the following material presents the results of our chapter members' votes and some of the conclusions we drew from this process.

4.1 ISSUE VOTING RESULTS
4.2 SOLUTION VOTING RESULTS
4.3 COMBINED ISSUE/SOLUTION VOTING RESULTS

OR

RETURN TO TOP OF UVOTE HOME PAGE

The average vote of our chapter members and the resulting ranking of the initial 30 issues are presented in RETURN TO CHAPTER RESULTS MENU
OR CONTINUE SCROLLING
---
The top 8 solutions in terms of effectiveness per our chapter members' votes were:
#503.2 ACTIVE FATHER IDENTIFICATION (TO ADDRESS ISSUE OF IRRESPONSIBLE BIRTHS)

#404.2 REQUIRED INDIVIDUAL RETIREMENT SAVINGS( INADEQUATE SAVINGS)

#102.1 LINE ITEM VETO (UNCONTROLLED GOVERNMENT SPENDING)

#504.9 IDENTIFY FATHERS (EXCESSIVE WELFARE)

#207.4 NO UNFUNDED FEDERAL MANDATES (EXCESSIVE GOVERNMENT REGULATION)

#207.1 CONGRESS SAME RULES AS PUBLIC (EXCESSIVE GOVERNMENT REGULATION)

#502.1 REPEAT OFFENDER = LIFE SENTENCE (VIOLENT CRIME)

#601.4 PATENT OR RELEASE TO INVENTOR IN 6 MO (INADEQUATE TECHNICAL INNOVATION)
CONCLUSIONS - SOLUTIONS
PROCESS SUCCESSFULLY IDENTIFIED AND EVALUATED 96 CANDIDATE SOLUTIONS TO THE 30 POLITICAL ISSUES.

MANY SOLUTIONS RECEIVED BROAD SUPPORT - WE NEED TO FOCUS ON REFINING THESE SOLUTIONS AND SEE IF WE CAN MAKE THEM EVEN BETTER.

SOME SOLUTIONS POLARIZED THE VOTERS (I.E. HIGH STANDARD DEVIATIONS) - SINCE SOME LIKED THESE SOLUTIONS, WE NEED TO SEE IF THE CONCERNS OF THE OTHER VOTERS CAN BE ADDRESSED.

NOT ALL ISSUES ACHIEVED AN EFFECTIVE SOLUTION - SO WE NEED TO KEEP ON LOOKING.

SEVERAL MEDIUM PRIORITY ISSUES ACHIEVED EFFECTIVE SOLUTIONS.

#503 EXCESSIVE IRRESPONSIBLE BIRTHS SOLUTION: ACTIVE FATHER IDENTIFICATION

#601 INADEQUATE TECHNICAL INNOVATION SOLUTION:[COMPANIES MUST FILE FOR] PATENT OR RELEASE TO INVENTOR IN 6 MO.
RETURN TO CHAPTER RESULTS MENU
OR CONTINUE SCROLLING
---
The urgency of a solution is combination of the effectiveness of that solution and the priority of the issue addressed. In developing UVOTE we evaluated several weighting schemes and settled on simply the normalized product of the two votes. This methodology is presented graphically in:
POLITICAL ISSUE EVALUATION METHODOLOGY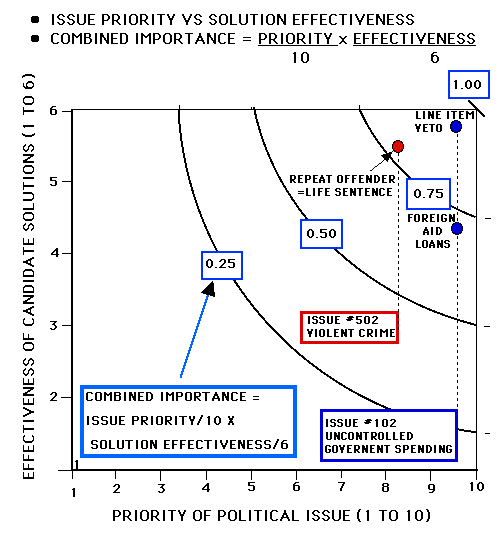 The graph shows three solutions to two different issues.

Uncontrolled government spending was the highest ranking issue at 9.60 and line item veto was deemed a very effective solution (5.75) giving this solution a combined importance of (9.6/10) X (5.75/6) = 0.92.

Foreign aid loans was another solution to government spending, but was deemed relatively ineffective (3.88) since foreign aid is a small part of the budget thus giving this solution a combined importance of only 0.62.

Violent crime (8.29) was deemed slightly less important than government spending. However "REPEAT OFFENDER=LIFE SENTENCE" was deemed to be a very effective solution (5.5) giving this solution a combined importance of 0.76 which (by this combined importance weighting) makes action on this solution more important than action on the foreign aid loan solution.

CONCLUSIONS - COMBINED ISSUES AND SOLUTIONS
IMPORTANCE METHODOLOGY SUCCESSFULLY COMBINED THE HIGH PRIORITY ISSUES WITH THE MOST EFFECTIVE SOLUTIONS

10 MOST IMPORTANT ISSUE/SOLUTION COMBINATIONS (WHICH BASED ON THIS METHODOLOGY AND VOTING DEFINE THE 10 MOST URGENT POLITICAL ACTIONS) WERE:

#102.1 LINE ITEM VETO
#102.2 SINGLE PURPOSE LEGISLATION
#102.6 APPROVE BUDGET FIRST
#102.8 NO UNFUNDED FEDERAL MANDATES
#504.9 IDENTIFY [WELFARE] FATHERS
#102.3 PRIVATIZE GOVERNMENT SERVICES
#101.1 BALANCED BUDGET AMENDMENT
#207.1 CONGRESS SAME RULES AS THE PUBLIC
#502.1 REPEAT OFFENDER = LIFE SENTENCE
#504.7 NO MORE WELFARE $ FOR MORE CHILDREN
THIS COMPLETES THE DISCUSSION OF THE UVOTE PROCESS

RETURN TO CHAPTER VOTE SUB- MENU

OR

RETURN TO TOP OF UVOTE HOME PAGE

POLITICAL ISSUE LIST AND PRIORITY VOTE RESULTS
(UWSA SANTA CLARA CO, CA CHAPTER - SPRING 1995)

GENERAL TOPIC/ISSUE TITLE.................AVE VOTE.....RANK


GOVERNMENT FINANCIAL ISSUES
101 Excessive National Debt..............................9.33...........2
102 Uncontrolled Government Spending ..............9.60...........1
103 Unnecessarily Complex Tax System...............8.07...........9

GOVERNMENT OPERATIONAL ISSUES
201 Special Interest Election Funding..................7.79...........12
202 Excessive Negative Campaigns......................6.62...........22
203 Restricted Legislative Information.................RESOLVED
204 Low Voter Participation..............................5.50...........28
205 Excessive Domestic Special Interest...............8.14.............8
............Influence
206 Excessive Foreign Interest Influence..............8.79.............4
207 Excessive Government Regulation..................8.21.............6

PRIVATE SECTOR OPERATIONAL ISSUES
301 Excessively Large Corporate Empires.............6.27...........25
302 Insufficient Small Business Opportunity..........6.21...........26
303 Excessive Medical Cost................................7.64...........13
304 3rd Party Medical Funding...........................5.43...........29
305 Excessive Legal Costs..................................7.57...........14

DOMESTIC ECONOMIC ISSUES
401 Diminishing High Value Job Base...................6.71............21
402 Falling Educational Standards.......................8.00........10/11
403 Inadequate Career Education ........................7.36...........16
404 Inadequate Savings Rate...............................7.00...........19
405 Forced Cross-Generational Retirement............7.00...........18
............Funding

DOMESTIC SOCIAL PROBLEMS
501 Excessive Unemployment.............................5.77............27
502 Excessive Violent Crime..............................8.29.............5
503 Excessive Irresponsible Births......................7.14...........17
504 Excessive Welfare......................................8.87.............3
505 Excessive Substance Abuse...........................8.15.............7
506 Excessive Illegal Immigration.......................8.00........10/11
507 Excessive Urbanization................................4.25...........30
508 Excessive TV Violence.................................7.36...........15

DOMESTIC TECHNOLOGY/RESOURCE ISSUES
601 Inadequate/Blocked Technical Innovation........6.40............24
602 Stalled Fusion Energy Development...............7.00............20

WORLD ECONOMIC/SOCIAL ISSUES
701 Overpopulation...........................................6.50............23
---