SKI CONTROL SYSTEM
1994 THANK YOU LETTERS AND MARKET SURVEY
This page documents the Thank You letters and Market Survey results received from SCS students after the 1994 ski season.

We were delighted by the many enthusiastic comments provided by over 100 individuals who had taken beginning ski lessons with SCS equipped skis at Heavenly Ski Resort during the 1993 and 1994 ski seasons. We attempted to focus these comments by contacting a sample of these students and requesting that:

1) They consider signing a form thank you letter to the Heavenly Ski School that acknowledged their feelings of additional control and safety provided by the SCS and requested the opportunity to rent SCS equipped skis.

2) They complete a market survey

We contacted 41 students from the 1994 season. We received 14 responses or 37% which is an excellent response for this type of request and provides further evidence of strong public support for the SCS beginning lesson program and the enhanced control provided by SCS equipped skis. The first section below presents the Thank You letters we received and the next section presents the Market Survey results.

THANK YOU LETTERS
RECEIVED FROM SCS BEGINNING LESSON STUDENTS

These thank you letters were all signed and returned during May and June 1994 after the ski season and some three to four months after these individuals had taken their beginning ski lessons with SCS equipped skis. Many like Laurie Lufrano had probably skied several more times after their first lesson. Their willingness to sign and return this thank you letter shows strong support for the SCS after the passage of time and probably in light of continued skiing experience. Roberta Burroughs was a student from the initial 1993 ski season SCS lessons and her experience relating the significant benefits of her initial lesson with SCS skis is particularly gratifying. This same perspective of time and experience strengthens the validity of these SCS student's market survey input presented in the next section.

Keep Scrolling to review the 1994 SCS Market Survey results

1994 SCS MARKET SURVEY

The increased control and enhanced safety benefits reported by so many students using SCS equipped skis should be sufficient justification to make this technology available to the skiing public. However the public's willingness to pay additional costs for the SCS are important for establishing the commercial viability of SCS technology.

As shown below given choices of $0, $3, $6, $9 and $12 additional cost per day, 93% of the students responding to the 1994 survey wanted to rent SCS skis. All these skiers were willing to pay $6 or more additional per day to have SCS capability and half were willing to pay $9 or more additional per day. I searched my files and found a brochure from Alpine Meadows Ski Resort (about 40 miles north of Heavenly) for the 1993-94 season which quotes a standard rental package price of $19 a day for boots, skis, bindings and poles. While offsite rental shops would have been less expensive, this is probably typical of resort ski rental rates in the Lake Tahoe area for the 93-94 ski season. The willingness of 93% of the respondents to pay $6 or an additional 31% over the normal rental rate for a complete ski/binding/boot/pole package just to obtain additional SCS control demonstrates a solid commercial foundation for SCS technology.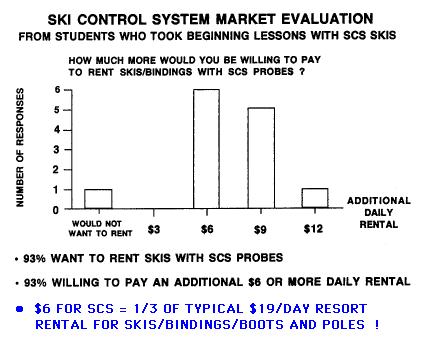 Return to the top of this page
OR
Return to instructor & student comments list.
---