SKI CONTROL SYSTEM - 1995 SKI SEASON STUDENT COMMENTS
This page presents a complete summary and a partial listing of1995 ski season student comments from beginning ski lessons with SCS equipped skis at Heavenly Ski Resort and Diamond Peak Ski Resort together with links to graphics images with the students' own handwritten comments.

The 1995 SCS lessons at Heavenly were taught by Heavenly Ski School instructors Mr. Steve Evenson and Mr. Tim O Connor during the period 12/16/94 through 4/18/95 under the direction of Mr. Jimmy Ackerson, Heavenly Ski School Director. Please review some Highlights of Steve Evenson's resume.

The 1995 SCS lessons at Diamond Peak were taught by Diamond Peak Ski School instructors Ms Rhona Gillespie and Mr. George Postgate during the period 2/10/95 through 4/11/95 under the direction of Mr. Carl Hill, Diamond Peak Ski School Director.

We are grateful to these fine ski instructors and their ski school directors for this public evaluation of SCS equipped skis. The excellent results are a credit to the skill of these ski professionals who utilized the SCS as a teaching aid to promote confidence and skill development in these beginning students.

SUMMARY: The students taking beginning lessons with SCS equipped skis had the opportunity to ski with the SCS control probes engaged (to experience the combined effects of ski edge and SCS probe control) and with the SCS control probes retracted to experience the feel of conventional skis without supplemental SCS control. Halfway through the lesson the students took a break and the instructor asked then to fill out a comment card. The comment cards at the beginning of the season just asked for written comments. However in February 1995 we added two Yes/No questions. The following is an example of one of the updated cards.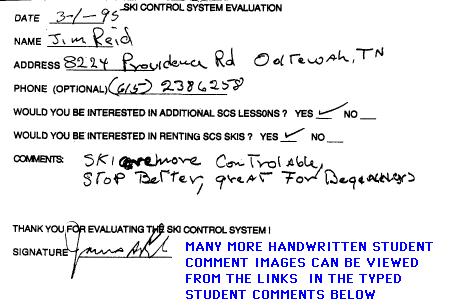 1995 Comment cards were received from 114 students who took 1st day beginning ski lessons at Heavenly and Diamond Peak using SCS equipped skis provided by Humphrey Engineering. As shown above in addition to written comments, the students from Feb 1995 on were asked if they were interested in additional SCS lessons and in renting SCS skis. As shown shown below
83% of the students indicated a desire to take more lessons with SCS equipped skis and 86% stated they would be interested in renting SCS equipped skis. The results were consistent for both ski resorts.
Comment Card Question Results
Would You be interested in additional SCS Lessons ?
Heavenly: YES 45 responses = 85% . . . NO = 8 responses = 15%
Dia Peak: YES 35 responses = 81% . . . NO = 8 responses = 19%
TOTAL: . . YES 80 responses = 83% . . . NO = 16 responses = 17%
Would You be interested in renting SCS Skis ?
Heavenly: YES 44 responses = 85% . . . NO = 8 responses= 15%
Dia Peak: YES 40 responses = 87% . . . NO = 6 responses= 13%
TOTAL: . YES 84 responses = 86% . . . NO = 14 responses= 14%
Continue Scrolling through student comments
OR
Return to Top of This Page
PARTIAL LIST OF STUDENT COMMENTS -
Unless indicated all the students listed below (from Feb 1995 on when we started asking the question) indicated YES/YES for their interest in SCS lessons and in renting SCS skis. A graphical record of 24 student's comment cards is provided via links from the typed comments below to impress upon the reader that these are indeed real human beings who had a very favorable experience with SCS equipped skis and who shared their feelings in the form of very favorable comments.
LESSON DATE
STUDENT: COMMENTS
12/16/94 Heavenly
Linda Bednar: I am first time skier. The probes in the SCS skis gave me a feeling of security and control. We tested both with and without the probes and I felt much more control with the probes down. (view comment card)
Jack Bednar: First time skier. Probes were effective in slowing me down and allowing for better control. With everything else you are trying to learn, the probes give you one less thing to be concerned about. (view comment card)
Rosa Mc Donald: This was my second lesson. The skis gave me more confidence - I was less timid. (view comment card)
Melissa Meraux: The probes definitely made 1st time skiing easier.
Gail Maninger: I felt that SCS was helpful - I probably would have given up by now if I did not use the SCS skis. (view comment card)
12/17/94 Heavenly
Daphne Won: I liked the SCS System - it definitely helped.
Kim Dover: Gives you more confidence - Helps out a lot- would recommend. (view comment card)
Phuong Young - I loved it! It's a great idea because it allowed me to go slower and not loose control. (view comment card)
Suzi Turner - I liked the probes. They really helped [me] learn the techniques, then to try it without the probes was easier. I think they're great! (view comment card)
Natalie A. Meyer - The ski probe was great for a true beginner such as myself. It made me more comfortable during my initial run down the steeper hills.
Rosa K. Wyatt: Great System. Made learning to ski a lot easier. Gave me more confidence. (view comment card)
Susanne Richards: I was more comfortable when I first started today having the probes down. It made me feel safer. (view comment card)
M. Harner: Good Idea - I think I learned faster.
After such a great start on the SCS lessons before Christmas 1994, inexplicably there were no more SCS lessons at Heavenly until early March 1995.
2/10/95 Diamond Peak
Stacey Farrell: They provided me with more control while I was learning. They slowed you down on the turns but provided you with much more control. They are great for beginners. (view comment card)
Olga O'Brian: They really helped me because I've had a broken ankle - very secure. (view comment card)
* Charles O'Brian: Instruction was excellent - the ski controls lent lots of confidence to stay with it. Definitely helped. (view comment card)
* NOTE: Charles was one of three students (all men) in this list that said YES they want to rent SCS skis, but either said NO to more lessons or declined to answer. This should dispell the notion that these students were answering YES to please their instructor. Most students realized that they needed professional lessons AND the additional control benefits of SCS equipped skis. However these three men who felt comfortable enough to ski without lessons still wanted to rent SCS equipped skis.
Connie Croker: More control with SCS, which increases confidence when learning. (view comment card)
3/2/95 Heavenly
Sharon Reid: Very good for beginners. Some psychological factor involved (helps). No one fell down in our first practice class.
Jim Reid: Skis are more controllable, stop better, great for beginners. (Jim's comment card was presented as the sample at the top of this page.)
Maryann Douglass: Good for Beginners! Should work well if sold at resorts that teach courses. I like the fact that it slowed me down - and helped with control. Would like to ba able to use all day ! (view comment card)
3/4/95 Diamond Peak
Ken Belmore: Definely benefits the beginners: (view comment card)
3/4/95 Heavenly
Mary Ann: SCS really helped control the speed.
Jane Salmon: I feel the skis are superb for learning and I wonder how good they function in different weather conditions.
June C.: I like the "training wheels".
3/6/95 Heavenly
Dolly Wuitschick - The skis are great to learn on ! Very safe anatomically. The ski lessons are great ! (view comment card)
Gregory Wuitschick - I feel they are great and was glad I was asked to try them out. When will we be able to rent them. I liked being able to walk up the hill and the option to use the SCS or not.
L. Perry - I was chosen to use the new SCS skis and found them to be great for control. Would like to see more of them throughout the school.
3/21/95 Heavenly
Krista Bedford - Help slow me down and make me more comfortable. (view comment card)
Chris Bedford - They seem to slow the skis down. The way I ski I need all the help I can get.
4/3/95 Diamond Peak
* Jeremy Capurro: It was much easier learning to ski with SCS. (view comment card)
Seamora Mason: Rhona was an excellent teacher and the ailerons [ i.e. SCS probes which are flight control surfaces that act much like ailerons on an airplane] I think very good. A much needed support for someone who's never skied before. (view comment card)
4/10/95 Heavenly
Randy Mayfield - Probes seems to help with control of speed. Great for beginners ! (view comment card)
Mariza Zaragoza - The probes really helped to slow down.
Dian Mayfield - Thanks for the opportunity to try these new probes out - I needed all the help I could get and this allowed me to participate in a smaller class. (view comment card)
R. C. Alamic - Allows better control at lower speed.
4/11/95 Diamond Peak
* Bradley Lum: I had a much easier time maneuvering around on the slopes. (view comment card)
4/18/95 Heavenly
Sarah Dee: The skis were "nice" I can only say this because I have no basis for comparison, being a first timer. But I would rent these again because I felt very comfortable on them. They gave me a sense of "control" - when I wasn't on my buns. (view comment card)
Richard Lauergae: Much easier to control. Helped a lot to learn, gain confidence much quicker. Helped to learn turns. (view comment card)
OR