SKI CONTROL SYSTEM - 1994 SKI SEASON STUDENT COMMENTS
This page presents a listing of 1994 ski season student comments from beginning ski lessons with SCS equipped skis at Heavenly Ski Resort together with links to graphics images with the students' own handwritten comments.

The 1994 SCS lessons at Heavenly were taught by Heavenly Ski School senior instructor and PSIA Examiner Mr. Steve Evenson during the period 1/17/94 through 2/8/94 under the direction of Mr. Jimmy Ackerson, Heavenly Ski School Director and Mr. Wade Peebles, Heavenly Assistant Ski School Director. This was the second season of SCS beginning lessons at Heavenly.

We are grateful to Mr. Evenson, Mr. Ackerson and Mr. Peebles for this public evaluation of SCS equipped skis. The excellent results are a credit to the skill of these ski professionals who utilized the SCS as a teaching aid to promote confidence and skill development in these beginning students. Please review some Highlights of Steve Evenson's resume.

The students taking beginning lessons with SCS equipped skis had the opportunity to ski with the SCS control probes engaged (to experience the combined effects of ski edge and SCS probe control) and with the SCS control probes retracted to experience the feel of conventional skis without supplemental SCS control. Halfway through the lesson the students took a break and the instructor asked then to fill out a comment card. The following is an example of one of the student comment cards.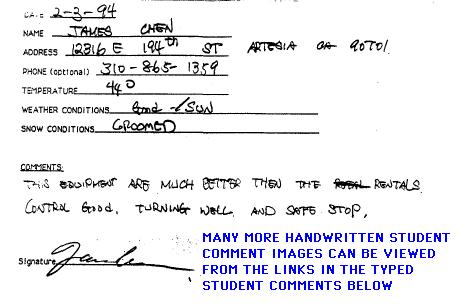 1994 Comment cards such as this were received from 71 students who took 1st day beginning ski lessons at Heavenly using SCS equipped skis provided by Humphrey Engineering.
PARTIAL LIST OF STUDENT COMMENTS -
A graphical record of 21 student's comment cards is provided via links from the typed comments below to impress upon the reader that these are indeed real human beings who had a very favorable experience with SCS equipped skis and who shared their feelings in the form of very favorable comments.
Following the ski season we requested students to sign and return a form thank you letter to Heavenly ski school. Fourteen students returned the letter and one student also wrote two very supportive handwritten letters. Copies of these letters can be viewed from the links below each students typed comments.
LESSON DATE
STUDENT: COMMENTS
1/17/94
Kim Wagler: Ski Control System is excellent for beginners - gives confidence and quickens learning (for me at least). (view comment card)
Joy Chadwick: Great Idea. SCS works wonderful.
Vicent Lockleak: Very Good.
1/24/94
Darin Williams: I could tell a major dif when the brakes were down. I wanted to use them the whole time. (view comment card)
Robert Sinclair: The brake system worked great and would be terrific for beginning and Novice skiers.
Francisco Menezes: It was a lot easier to stop. Less anxiety about the skis gliding faster than your body.
1/28/94 FIRM PACK
Vinny Nanji: I think the brakes are very good for us, the beginners. It's really helpful and they make stopping much easier.
Jane Gorin: I much prefer the brakes - wish they could be rented. (view comment card)
Cindy Nigielli: As a beginner I thought the brakes on the skis were very helpful. It took a little of the fear away and gave me more confidence. Tomorrow I plan to ski, I wish as a beginner I could rent them. (view comment card)
(View Signed Thank You Letter from Cindy)
1/30/94
Vaughn Johnson: It gave you a better chance to learn the skill of braking and turning !
Stephen Honea: I found the device made me feel more confidence, less fear, easier to turn (view comment card)
(View Signed Thank You Letter from Steve)
1/31/94
Wendy Davey: I thought the SCS was a lot more effective than the others - help stop and felt better.
Lesli Diamond - Much easier to stop, slow down, side step & better control with the SCS down (i.e. engaged). I would love a set of skis with a set of SCS. (view comment card)
Elaine Watson - SCS works great for better control. Helps stop and helps the side step up hill! (view comment card)
(View Signed Thank You Letter from Elaine)
Larry Watson: SCS - great control at beginning - especially sidestep - looks like a good idea. (view comment card)
(View Signed Thank You Letter from Larry)
2/1/94 Hard Pack
Jeannine Williams: A lot easier to learn. Let's you learn your position without falling.
Bill Deskin: Training wheels are good for beginners. You have the option to use them or not, so why not have them ? Keep them.
Norma Bennett: I liked the option of either using the brakes or not. The person who is skiing feels like they are in control.
Richard Bennett: Helps in learning process.
Mike Hubbard: The brake system is a great option especially for 1st timers.
2/3/94 Groomed Pack
Will Merrill: SCS seems to add stability when starting out. (view comment card)
(View Signed Thank You Letter from both Will and Jane)
Jane Merrill: I think the SCS gives a sense of security when walking and skiing on the beginner slope which is as far as I have been. (view comment card)
Burney Merrill: Noticed more control on turns.
Lisanne Merrill: They helped me considerably especially sidestepping.
2/3/94 Groomed
Leigh Ann Pittman - Gave me confidence.
James Chen: This equipment is much better than the rentals. Control good; turning well and safe stop. (Jim's comment card was presented as the sample at the top of this page.)
Mark Sheyn: I got a lot from this lesson. It was useful and new control system works very well. (view comment card)
(View Signed Thank You Letter from Mark)
2/4/94 Firm Groomed
Kelly Mclver - I really liked the SCS ! It helps beginners; I think everybody needs it ! (view comment card)
Tiffany Bocker - The probes are awesome ! They helped me (a beginner) much better. If I ever go skiing again, I'll have to be very careful since I won't have the probes. I felt uncomfortable without them. The probes are a great idea and I hope they will be used more in the future. (view comment card)
Kim Brown - Thought it was a good tool ! Seemed to lessen fall downs. Allowed you to gradually gain confidence. Great Instructor !
2/4/94 Groomed - Firm
Kimberly Miller: They were great. Need to make them easier to put down. I think they help build a person's confidence about going down the hill because it gives you more control. (view comment card)
(View Signed Thank You Letter from Kimberly)
Diane McIver: The only thing that kept me from numerous falls and [going] much too fast.
Jennifer Roen - Enjoyed new product, SCS. I think its a great idea. It gives a person a chance to get confidence and helps a great deal with control.
Adam Taqui: Excellent instructor - Steve Evenson. SCS skis helped me with speed (slowing down).
2/5/94 FIRM PACK
Barbara Suavez - The probes helped slow me down and I believe it will help lots of beginners learn how to ski.
Rose Ann Arratia: I think they really help. This is my first time and with the normal ski I felt that I did not have total control, but with the probes you fell like you have some sort of "better" control on speed and more confidence when I wedge to stop. I am a slow learner and I think they help build your confidence. (view comment card)
(View Signed Thank You Letter from Rose Ann)
Lisa Delaplano: Great - the probes make it a lot less intimidating !
Larry Lufrano - The concept of the probes is great for beginners and the class is excellent. It might have to do with the small class. Our instructor Steve is very good and patient with the students. Skiing is supposed to be fun and this class is ! The probes do a great job slowing beginners down. [it] does a great job until they are ready to go on their own.
Laurie Lufrano: Because of a previous wrist injury, the slower speed was much more comfortable for me. And being my first time skiing I was scared of going too fast. (view comment card)
(View Signed Thank You Letter from Laurie and Larry)
(View HANDWRITTEN LETTER From Laurie to Heavenly)
(View Another HANDWRITTEN LETTER From Laurie to John Humphrey)
2/6/94 Firm Pack
Charles McKee: The probe made it much easier as a beginning skier, less slipping and sliding.
Al Nareiso: Being first time on skis I found that the probes really did help in the control of the skis. I would highly recommend it as a learning tool. (view comment card)
Emily Nanciso: Very skilled instructor - lots of patience with "new to the sport" people. The probe equipment made it easier for the first timer - lot more confident. (view comment card)
(View Signed Thank You Letter from Al amd Emily)
Evangeline Almazan: Class was very informative. The ski probes were very helpful. Gave me a lot of control, kept me from sliding too fast. Recommend probes be used for beginners.
2/8/94
Julie Sloan - Probes seemed to slow you down allowing more control for beginners.
Juanita Barba - I like the special brake the skis have.
Tom Bremyer - For beginners, psychologically speaking, the probes give them more confidence with their stopping abilities. It helped me significantly. Heavenly should give this device as optional to all beginners. (view comment card)
Merv Resing - This is my second 1st lesson. I used the ski probe on my second lesson and I believe I did better. The slower speed allowed me not to lose my balance as fast and not panic and fall. Much better lesson - partially because of my "second" day, but also because of the probe. (view comment card)
(View Signed Thank You Letter from Merv)
Hilarie Starr: I like the probes. They do help to slow you down, which is nice while learning. It is also nice to be in a smaller group.
Sylvia Parker: They're wonderful to ski with. Able to ski easier than regular ones. I'm able to slow down and really to learn to do a lot of the moves.
OR