! UVOTE/ISSUE300/ISSUE306.html 7/23/96 >
POLITICAL ISSUE #306: MISLEADING CONSUMER PRODUCT INFORMATION
YOU MAY ACCESS THE FOLLOWING ISSUE AND ITS SOLUTIONS
ISSUE STATEMENT AND OPTIONS FOR ISSUE #306

SOLUTION DEFINITIONS AND OPTIONS FOR:

306.1 Required Unit Price Histories
OR


YOU MAY PROPOSE ANOTHER SOLUTION TO THIS ISSUE
(PLEASE FIRST READ THE OTHER SOLUTION DEFINITIONS CAREFULLY TO MAKE SURE YOUR SOLUTION IS CLEARLY DIFFERENT )


OR


CHOOSE ANOTHER CATEGORY 300 ISSUE

OR


CHOOSE ANOTHER ISSUE CATEGORY
---
ISSUE STATEMENT FOR #306: MISLEADING CONSUMER PRODUCT INFORMATION
PRESENT CONDITION: The American market place still has far too much misleading consumer product information.
DIRECTION OF IMPROVEMENT: American citizens should be provided with clear and sufficient information on the products presented to them in the American market place so that they can make intelligent choices based on their own personal purchasing criteria. Even more important, consumer product information should be free of both deceptive and even clearly misleading information.

ISSUE JUSTIFICATION: The Free Market is the engine of our American economy. A free market allows American citizens to efficiently direct our economy through our cumulative independent choices for the products and services we buy. This system of free market resource allocation depends on clear and adequate information. Over the last generation we have made significant progress in providing American citizens with useful product information and additional efforts in this area should continue. However we have made less progress in curbing the flow of misleading or even deceptive product information. Whether intentional or just accidental, misleading information creates a fog bank on the free market highway that disorients citizen purchasing decisions and unjustly rewards producers who successfully mislead the public.

AUTHOR: John M. Humphrey EMAIL:humphrey@aimnet.com

OPTIONS FOR ISSUE # 306: MISLEADING CONSUMER PRODUCT INFORMATION

ADDITIONAL BACKGROUND INFORMATION: PERSONAL EXPERIENCE WITH POTENTIALLY MISLEADING CONSUMER INFORMATION
NOTE: THIS INCLUDES A 100K PICTURE FILE

REVIEW PUBLIC COMMENTS ON THIS ISSUE

REVIEW CURRENT VOTING RESULTS ON THIS ISSUE

COMMENT ON THIS ISSUE YOURSELF

RETURN TO THIS ISSUE/SOLUTION MENU

CHOOSE ANOTHER CATEGORY 300 ISSUE
---
SOLUTION DEFINITION STATEMENT
FOR
SOLUTION # 306.1 REQUIRED UNIT PRICE HISTORY
BRIEF DESCRIPTION: Every consumer product shall be required to present their suggested retail unit price history for the last two years. Each manufacturer shall present their proposed production unit definition to the Commerce Department for approval and then shall use that approved definition for their unit price history. A sample price history is shown below.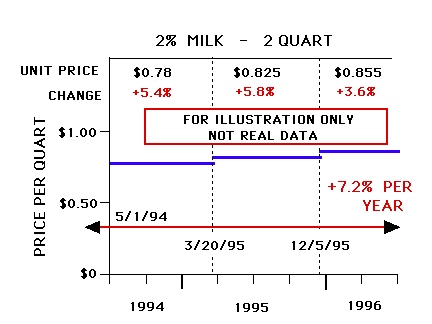 JUSTIFICATION: This solution addresses the pervasive practice of product downsizing and other marketing tactics designed to mask price increases. Clear product information and in particular clear pricing information are essential to the function of a free market economy. Requiring a graphical presentation of a product's unit price history strengthens our free market by providing the American people with:
1) current unit price information on the package and
2) a graphical/numerical unit price history.
A unit price history on the package unmasks any attempts to raise prices through packaging changes and hopefully will end this deceptive and frustrating marketing practice. Furthermore a unit price history helps the American people sort through the fog of "sales" and "specials" to see the real trend in product prices.
AUTHOR: John M. Humphrey Email: humphrey@aimnet .com
OPTIONS FOR SOLUTION # 306.1 REQUIRED UNIT PRICE HISTORIES
REVIEW PUBLIC COMMENTS ON THIS SOLUTION
REVIEW CURRENT VOTING RESULTS ON THIS SOLUTION
COMMENT ON THIS SOLUTION YOURSELF
RETURN TO THIS ISSUE/SOLUTION MENU
PROPOSE AN AMENDMENT TO THIS SOLUTION
---